The latest tips, news, and specials from DeBroux Automotive!
Take a look under our hood for important automotive info and news from the DeBroux Automotive team.
The DeBroux Automotive team knows a thing or two about cars, trucks and classic cars. The team at our family-owned business is bursting with automotive news, repair stories and information they can't wait to share. Check in regularly to learn maintenance and repair tips and tricks from its mechanics, the latest news circulating in automobile circles, and any ongoing special offers from DeBroux.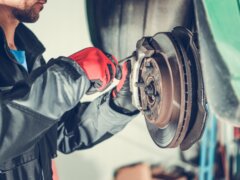 Your car's brakes are essential to your safety on the road. Brakes work hard, though, and they don't last forever. Unfortunately, it can be tough to tell when it's time for brake repair, new brake pads, or brake replacement. Let your brakes go too long without service, though, and you create a safety issue that…