Do you live in or around Pensacola? Are you looking for tires, tire repair, and tire service for your car, truck, or a commercial fleet? If so, you've come to the right place. DeBroux Automotive specializes in all things tires! Come to us for tire sales, rotation and balancing, flat repair, and more!
Here to offer a wide selection of convenient services, we're your go-to for getting on the road and making every trip a little safer.
Why Choose DeBroux for Your Tire Needs?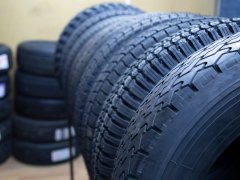 Even the best tires wear out eventually. When they do, you need a sales and service department you can count on. Fortunately, DeBroux Automotive is here to help. Offering quality tires from world-class brands, we'll help you find the perfect tires for your car, truck, or SUV.
Once you've purchased the tires, our service department can also provide tire rotation, balancing, and repair for the life of the tires. Did you know that something as simple as properly inflating your tires can save you as much as 11 cents per gallon on fuel? Despite these savings, only 19% of people inflate their tires to the right levels. Save money, drive safer, and get more from your investment with the help of our expert team.
Don't let wear and tear get you down — stop by DeBroux Automotive for the best sales and service the industry has to offer.
Complete Automotive Repair — From Bumper to Bumper
Think DeBroux Automotive is just a tire and alignment shop? Think again! Our team is here to service your entire vehicle. We offer standard automotive repair, routine maintenance, tune-ups, engine overhauls, and even classic car repair services. Our services include the following:
Our team of ASE-certified auto repair techs works with all makes and models of vehicles. Whether the car in question is brand new, brand new to you, or a vintage model you want to restore, DeBroux is here to help. 
Serving the Pensacola area since 1989, we strive to keep our promises to our customers, building a loyal following by delivering top-quality service at affordable prices. We understand finding an auto repair mechanic can feel like a daunting process, but our team makes it more accessible. Stop by to meet our team — we'll treat you like family the moment you walk in the door.
Helping You Drive Safer
Taking a big summer road trip? Heading to see the family for the holidays? Need new tires but not sure where to begin with tire sales? No matter where your journey might lead you, stop into DeBroux Automotive before you go. Our team of skilled service techs will do a complete evaluation of your vehicle (tires, too!) to make sure everything is road-worthy. What are you waiting for? Contact us today to book your appointment!